Saunas
Isosaari has three saunas, all located on the northern shore of the island: Rantala (max 8 persons) and Haapala (max 60 persons). Rantala is located near the Upseerikerho restaurant, while Haapala are one hundred metres west, next to a sandy beach. Check map below.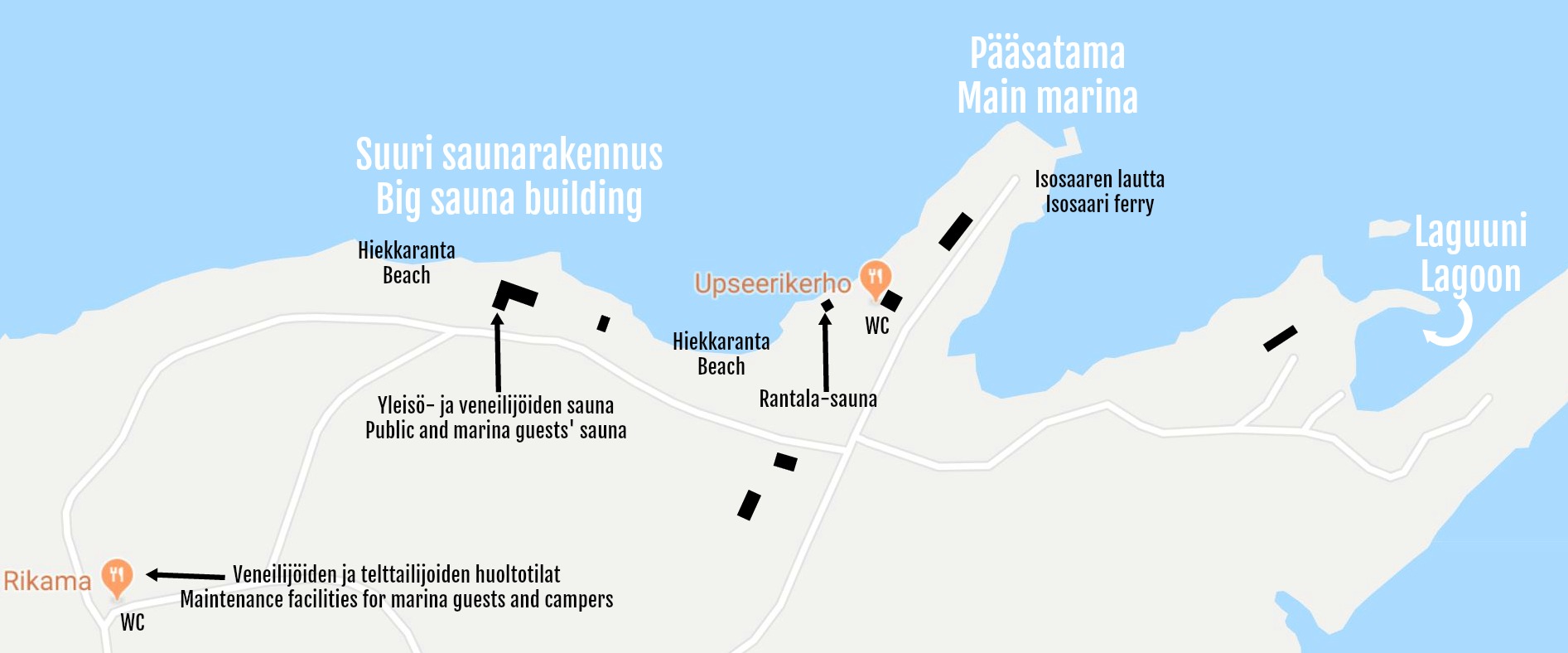 DURING SEASON 2022 THE PUBLIC SAUNA HAAPALA IS FREE FOR ALL ARRIVING WITH FERRY TRANSPORTATION OR OWN BOAT! Sauna is an additional, free service provided to customers by ferry operator. If the sauna is out of order due to other problems or restrictions, ferry operator will not refund tickets for ferry or harbor fee. Customer does not pay anything for the sauna, only the harbor fee or ferry ticket. For more information about saunas contact the Isosaari harbor master from number 0447634768.
You can rent a sauna as part of a charter cruise to the island, arriving with the scheduled ferry or if you come to the island on your own boat. Saunas can be rented to the public on weekends in June and between Midsummer and the start of school (usually the second week of August), and also on later August weekends. All saunas can be rented all year round, and separate saunas can be arranged for men and women in a mixed group.
During the public turns, there are separate dressing rooms for men and women, but the saunas and showers are shared, so a swimsuit is obligatory. Bring your own soap and towel! You can get a key from locker against a deposit (for example 20 e note or ID card) from the scheduled traffic vessel.
Public sauna Haapala opening hours 2022
4.6-19.6: Sat-Sun from 12 a.m to 3 p.m
24.6-25.6 Fri-Sat from 12 a.m to 3 p.m
29.6-7.8 Wed-Sun from 12 a.m to 3 p.m
13.8-4.9: Sat-Sun from 12 a.m to 3 p.m
The Sauna is a mixed sauna, meaning men and women bathe together. Swimsuit is mandatory! There are separate locker rooms for men and women.
Also on Saturdays only in addition to the 12-15 mixed sauna:
15-16 women
16-17 men
17-18.30 mixed sauna
Welcome!
Custom sauna prices
Rantala (incl. lounge), 250 €+11 € billing extra, max 8-10 people

The sauna room itself accommodates about 4 people, and the lounge a maximum 10 people at a time.
The booking fee includes the rent of the sauna and the lounge, as well as the firewood. Ferry tickets are not included. The sauna is at your disposal for three hours, which includes the heating of the sauna, the use of the sauna, and the final cleanup. Please leave the sauna and the lounge as you found it, or a cleaning fee of 100€ will be charged. Contact our customer service via e-mail info@visitisosaari.fi and make your reservation. Custom orders for groups coming with their own boat is available – ask for an offer!
---
The Haapala sauna, 500 €+11 € billing extra, max. 30 persons + 20 € per additional person (max. 60 persons during summer, and 44 during winter)
For private groups. Prices include rental of the sauna and dressing room for 3 hours. Transportation to and from the island is not included in the price. You are free to bring your own beverages. You can also order coffee or a meal from the Upseerikerho restaurant, explore the island by yourself or book a guided tour, or play golf. For bookings, offer request or e-mail us at info@visitisosaari.fi, also for charter groups!
Towel fee 5 € per person (optional)
Customer service (weekdays 9.00-15.00)
0102023780
(1,51 €/call + lan)
Charter Cruises (weekdays 9.00-17.00)
0102023781